Global Charity Promoting Love and First Digital Platform for Hot Yoga Enthusiasts Align, and Support April 30 Congressional Yoga Day
LOS ANGELES, CA. – March 26, 2019 – The Love Button Global Movement, a non-profit organization dedicated to promoting love among our human family, today announced a collaborative partnership with SweatNGlow.
SweatNGlow, founded by Petra Starke, a hot yoga pioneer and former member of the White House Council of Economic Advisors is hot yoga's first global digital platform. It serves as a trusted center of excellence for a community made up of more than 5,000 studios and 10 million enthusiasts. It delivers the technological tools to help a fast-growing membership that launched with 25 founding member studios in the US and abroad in the fall of 2018.
The Love Button Global Movement was founded by Dr. Habib Sadeghi, author of acclaimed book, The Clarity Cleanse and Dr. Sherry Sami, co-founder of the Be Hive of Healing, a leading integrative medicine center located in Agoura Hills, CA. The organization promotes a culture of love by inspiring our human family to act with loving kindness in our daily lives. Supporters wear the Love Button lapel pin to show their belief in love and its power to transform our world. Love Button supports educational and humanitarian programs that empower individuals and uplift communities locally and globally.
Through the new alliance, the organizations will provide cross marketing and promotional support to each other. As one of their first major initiatives, they are working with the United States Congress to deliver the first of a bi-annual Congressional Yoga Day, a fun non-partisan activity and help bring wellness and mindfulness to Capitol Hill, Washington, DC.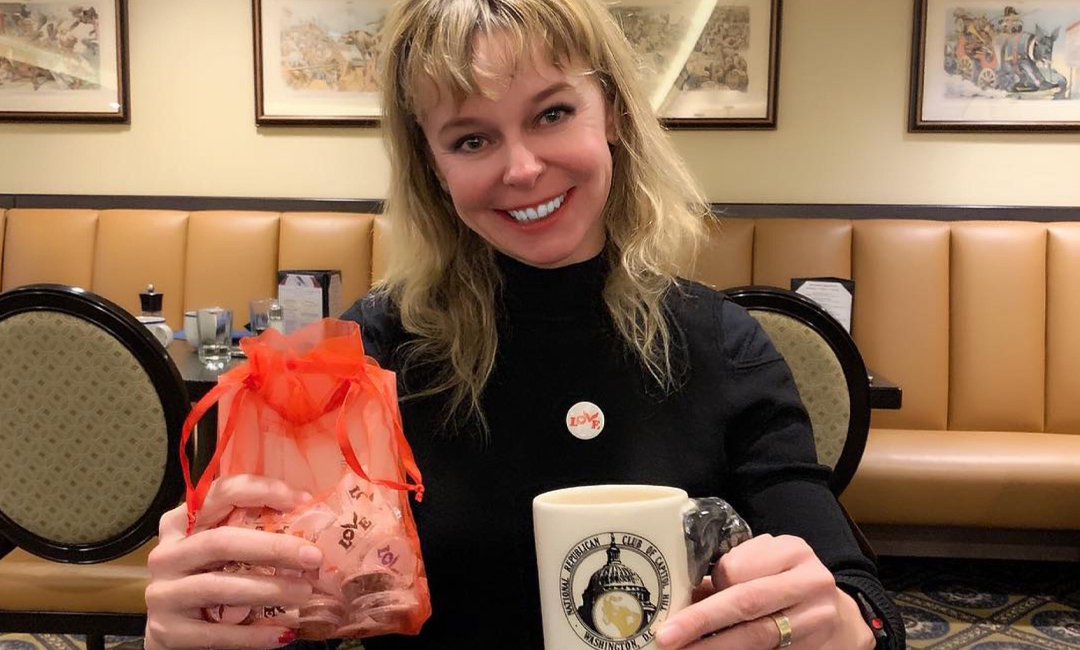 On April 30, Congressional Yoga Day will begin with a discussion featuring members of congress, thought leaders, and leading physicians titled "How far do we need to go to be in the present moment." It will be followed by a 60-minute yoga class taught by Ms. Starke for members of congress and their staff so they can experience the superb physiological and psychological benefits of practicing yoga, and better understand what it means for various constituencies.
Further details of the collaboration include: Love Button will be the featured charity of choice for SweatNGlow and will donate a portion of its profits to Love Button, sell Love Button merchandise on its website with a percentage of proceeds going to Love Button, and display a Love Button flag in their studios. Each new member of SweatNGlow will receive a Love Button lapel pin donated by Love Button. In return, SweatNGlow will donate one dollar from membership dues collected back to Love Button to fund the nonprofit organization's mission and its many loving initiatives across the globe.
SweatNGlow will be the yoga studio and network of choice for the Love Button Global Movement. Both organizations will promote each other through social media, event marketing, and branding. Love Button will encourage its supporters to consider practicing SweatnGlow hot yoga and its other offerings, while SweatnGlow will encourage its customers to consider donating to Love Button's mission.
SweatNGlow founder Petra Starke stated, "Love Button's message and, in particular, its work through its Integrative Medicine Research and Outreach program is perfectly aligned with SweatNGlow's commitment to supporting overall patient wellness and healing. Exercising in elevated temperatures has many benefits including Medication Assisted Therapy for types 1 and 2 diabetes, wellbeing for cancer patients, and treatment of opioid use disorders, among other benefits. There is no coincidence that we launched SweatNGlow in DC just one day before Love Button announced its program."
Dr. Habib Sadeghi stated, "There is exceptional alignment and amazing energy with Love Button and SweatnGlow. Love Button promotes physical, mental, emotional and spiritual wellness and the holistic benefits of yoga are well know. To the extent that Loving is the ultimate yoga of consciousness then collaboration between the Love Button Global Movement and SweatnGlow is as necessary for all of us as breathing." Love Button recently launched its Integrative Medicine Research and Outreach Program, which provides for curriculum development, student training, and symposiums to support overall patient wellness and to develop the next generation of compassionate doctors. The program's partners include Harbor-UCLA Medical Center, Western University of Health Sciences and California State Polytechnic University at Pomona where a program was recently held titled, From Anxiety and Stress to Resilience and Success.
–
About Love Button Global Movement
The Love Button Global Movement is a non-profit organization that promotes a culture of love by inspiring our human family to act with loving kindness in in every action and step we take during our daily lives. Our supporters wear the Love Button to show our belief in love and its power to transform our world. The organization supports educational and humanitarian programs that empower individuals; uplift communities locally and globally; and promote mental, emotional, spiritual and physical wellness. #Pause and Love. Join the Movement at www.lovebutton.org
About SweatNGlow
SweatNGlow is a digital platform with a clear mission: to help people improve their mental and physical well-being through hot yoga. It is devoted to hot exercise enthusiasts, starting with hot yoga, and connecting its existing network of 5,000+ independent hot yoga studios in the U.S. directly to more than 10 million hot yoga enthusiasts and consumers. The platform provides backend services to studios including a customer activation engine, licensing, teacher training, and a certification and ambassador program. It also provides class booking capabilities, and an e-commerce store. For more information, visit http://www.sweatnglow.com.
JOIN THE MOVEMENT
Subscribe to our newsletter and receive inspirational stories delivered to your inbox that spread love, updates on our movement, and notifications on upcoming deals & events.