Love Button Sticker Sheet
$6.95
Rated 4.80 out of 5
9.75″ x 6″ Sheet of Official Love Stickers
Created based on demands from Love Button supporters, this jam-packed Love Button Sticker Sheet includes 6 official Love button logo stickers with the identical colors of our super popular buttons. In addition it contains a die cut sticker of our unique social media hashtag #PauseAndLove. Express your love by placing these stickers on your favorite device, window, mirror, and other surfaces where love is needed.
Proceeds from your purchase of Love Buttons and Love Button products go toward helping various humanitarian organizations around the world. Learn More
In stock
Thanks to our Love Button supporters, we are pleased to reveal the new & improved official Love Button Sticker Sheet!
The 9.75 x 6 inch originally designed sheet includes six official Love Button logo stickers matching the colors of our popular Buttons. The sticker sheet also contains one die cut sticker of our distinctive social media hashtag #PauseAndLove. These stickers are guaranteed to make any surface at least 20% more loving.
Additional information
| | |
| --- | --- |
| Weight | 0.04 lbs |
| Dimensions | 1.25 × 9.7 × 6.05 in |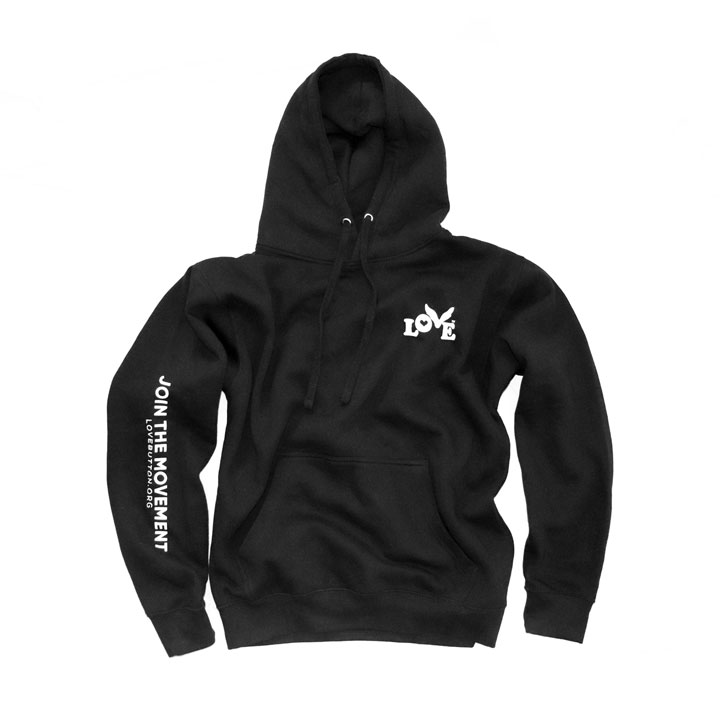 Love Apparel
Soft & Comfy Love Hoodie
Our classic unisex hooded pullover is made with a soft cotton/polyester blend and fleece interior for a soft, cozy feel. With a standard fit for ultimate comfort, It features a front kangaroo pocket, a self fabric-lined hood, and thick matching draw cords. Join the Movement is delicately placed on the right arm for a stylish and modern feel.
Proceeds from Love Button products support our loving mission fulfillment and go towards helping various like-minded organizations around the world. Learn More
Fabric
9 oz. 80/20 Cotton/Polyester
Features
Heavy weight cotton & polyester blend
Super soft fleece interior
Self fabric lined hood and flat draw cord
Front pouch pocket
Features linear Join the Movement tag & URL on the right arm
Unisex sizes small to xx-large
Sizing:
[sf_modal header="Hoodie Sizing/Fit Guide" link_type="text" link_text="Click here to see a sizing/fit guide" btn_colour="accent" btn_type="standard" btn_size="standard" btn_icon="ss-star" btn_text="Button text"]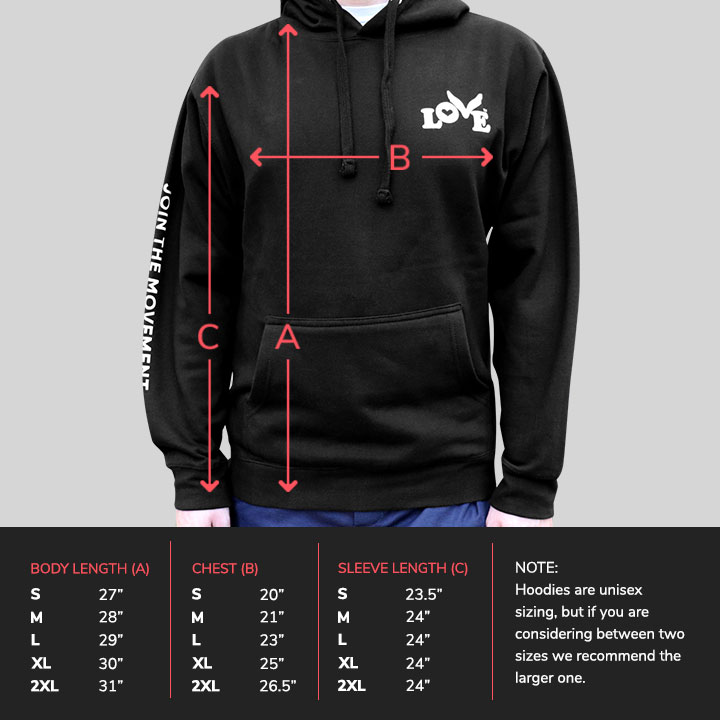 [/sf_modal]
$

44.95
Rated 5.00 out of 5