Famous love songs that aren't about romance
Songs about romantic love are as old as music itself. From the way falling in love makes us feel it's easy to understand why romantic relationships remain the number one topic of all songs ever written. While everyone loves a great song about finding true love or heartbreak, pop music has celebrated other kinds of relationships that are equally inspiring and remind us that a full life requires we love in many ways.
1. I Will Always Love You
Originally written and recorded by country-western singer, Dolly Parton, in 1973, the song was a farewell to her dear friend and colleague, Porter Wagoner. Parton had been a performer on Wagoner's TV show for seven years, contributing largely to its success, but she felt it was time to pursue a solo career and didn't want her departure to harm their friendship. Parton's original recording released in 1974 hit #1 on the Billboard Hot Country chart and again in re-release in 1982, making her only the second artist to hit #1 twice with the same song. Whitney Houston would later make the song #1 on the Billboard Hot 100 for 14 weeks in 1991.
2. Hey Jude
Written by Paul McCartney of the Beatles and released in 1968, the song was originally titled, Hey Jules. McCartney wrote the song to help comfort young Julian Lennon, the son of fellow Beatle, John Lennon, during his parents' divorce. Although McCartney would later change the title to Hey Jude because he thought it sounded better lyrically, the intention remains the same. The seven-minute song spent nine weeks at #1 in the U.S., selling eight million copies and making it the Beatles biggest hit.
3. Leader of the Band
From his 1981 album, The Innocent Age, Dan Fogelberg's Leader of the Band is a tribute to his father, Lawrence, who was a high school and university band director. In concerts, Fogelberg often tells the story of how, at four-years-old, his father let him "conduct" the band by giving him the baton, while his father stood behind him and did the real job. The lilting, guitar-based, folksy tune rarely leaves the listener with dry eyes with lyrics like, "He earned his love through discipline, a thundering velvet hand. His gentle means of sculpting souls took me years to understand." Released in late 1981, the song hit #9 on the Billboard Hot 100 and #1 on the Billboard Adult Contemporary chart.
4. New York State of Mind
People can have love affairs with locations where they feel like they really belong. Written in 1976 for his Turnstiles album, New York State of Mind is singer-songwriter, Billy Joel's love song to New York City. The inspiration came on a Greyhound bus headed back to the east coast after Joel had spent three years in Los Angeles. Overcome with pride after finally returning home, he wrote the song within hours after pulling up at the station. Although it never became a hit because it wasn't released as a single, it remains a fan favorite.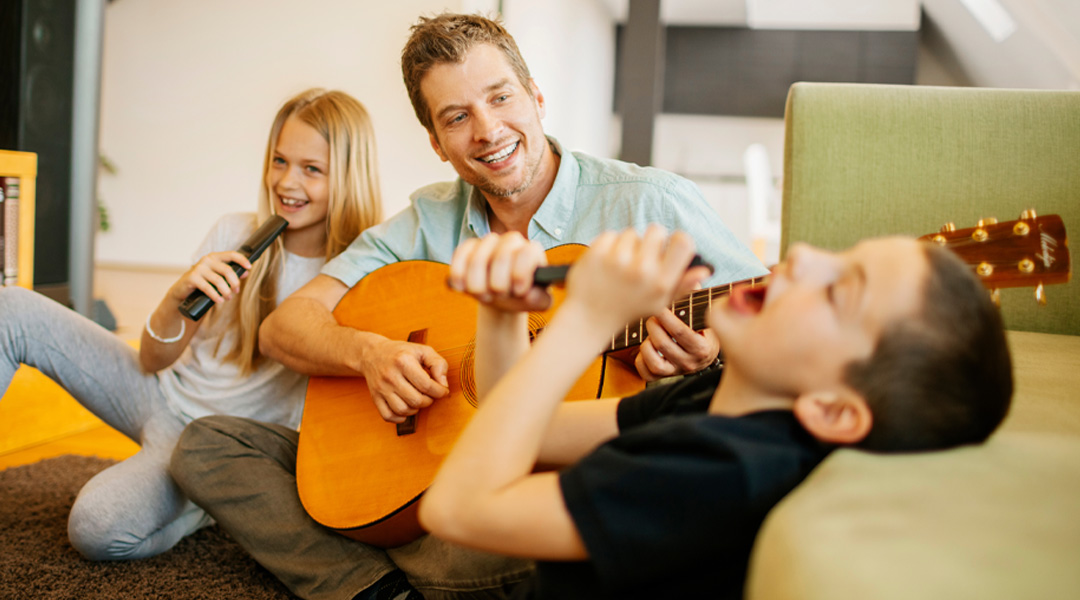 5. Isn't She Lovely?
Written to celebrate the birth of his daughter, Aisha, Stevie Wonder begins this happy 1976 tune with the actual cry of a newborn baby. Off his album, Songs in the Key of Life, Wonder not only sings but plays all the instruments with the exception of a few keyboard parts. At more than six minutes in length, Wonder refused to edit the song so it could fit on a 45rpm and be released as a single. Growing demand from fans encouraged Wonder to allow a 3:12 edit to be released that reached #23 on the Adult Contemporary chart in 1977.
6. The Perfect Fan
Released in 1999 as part of their successful Millennium album, The Perfect Fan gave the Backstreet Boys the opportunity to express their love and gratitude for their mothers. Written by Backstreet Boy, Brian Littrell, and Thomas Smith, the soft rock, piano-based ballad was never released as a single, but enjoyed enormous exposure by being included on an album that sold 30 million copies with mega-hits like I Want It That Way and Larger than Life. Since then, the song has become a Mother's Day standard.
7. American Pie
We can love those who inspire us, even if we've never met them. Released in 1971 on his American Pie album, singer-songwriter, Don McLean, recalls how at age 13 on February 4, 1959, while folding newspapers for his delivery route, he discovered his music idol, Buddy Holly, had died in a plane crash the previous day. In the song, American Pie, McLean would call it, "the day the music died". The meaning of the highly poetic and metaphorical lyrics has been debated for decades, a secret only McLean knows. It hit #1 for four weeks in 1972, and the Recording Industry Association of America named it the #5 song of the 20th century.
8. We Are Family
At the height of the disco era in 1979, four sisters from Philadelphia decided they were done singing backup vocals for other artists and broke out big with this hit celebrating sisterhood and family. Debbie, Joni, Kim, and Kathy Sledge, otherwise known as Sister Sledge, hit #2 on the Billboard Hot 100 with this joyful tune, while the album of the same name hit #1. Not only does the song celebrate family and sisters, but its meaning has since been expanded to express the bonding people feel when involved in shared causes.
9. Sweet Baby James
Although it was the first single released off his breakthrough album of the same name in 1970, James Taylor's Sweet Baby James didn't chart. The inspiration for the guitar-based, cowboy-style lullaby written as a waltz in ¾ time came to Taylor as he was driving through North Carolina to meet his infant nephew who was named after him. Over the years, it's become a signature song for him and one of his most requested tunes. Using an intricate rhyming pattern, Taylor considers it his best work.
10. That's What Friends Are For
This soft rock standard that celebrates the love and loyalty among friends was first recorded by Rod Stewart in 1982 for the soundtrack of the film Nightshift. It wasn't until 1986 when Dionne Warwick, Elton John, Gladys Knight, and Stevie Wonder got together to record it under the name Dionne & Friends that the song became a huge hit. Written by Burt Bacharach and Carol Bayer-Sager, the song was a charity single used to raise money for AIDS research. It hit #1 on the Billboard Hot 100 for four weeks, earned a Grammy award for Song of the Year, and raised $3 million for its cause.
JOIN THE MOVEMENT
Subscribe to our newsletter and receive inspirational stories delivered to your inbox that spread love, updates on our movement, and notifications on upcoming deals & events.