No, it's not Paris
When most people think of the City of Love they think of Paris, France which has long been associated with the endearing nickname. Actually, there's only one city that has love incorporated right into its name, and it's Philadelphia. Of course, Philadelphia, Pennsylvania isn't exactly the first place that comes to mind when thinking of a romantic destination, but that's okay because the city was named for a different kind of love.
In 1681, William Penn was granted a charter by the English crown for the Pennsylvania colony. He knew the location would need a capital city, so he set out creating one in a very specific way. Penn had a strong dislike of overcrowded European cities like London and wanted a capital city that would not come with all the usual urban horrors. So he began by designing a city with five open public squares and streets that were much wider than anything seen in London. Land was distributed in large plots with the hope that each family would start a sizeable garden. To Penn, this would provide the best of both worlds between city and rural life, and keep population density lower. Situated where the Schuykill and Delaware Rivers meet, the Schuykill would provide the city access to the Atlantic Ocean, while the Delaware would carry traders and travelers into the interior of Pennsylvania.
Penn was a Quaker, part of a religious sect deeply rooted in religious tolerance, and Pennsylvania was founded on Quaker principles. Because of this, Pennsylvania's capital city needed a name that reflected the beliefs of the Quakers. With this in mind, the name Philadelphia was chosen.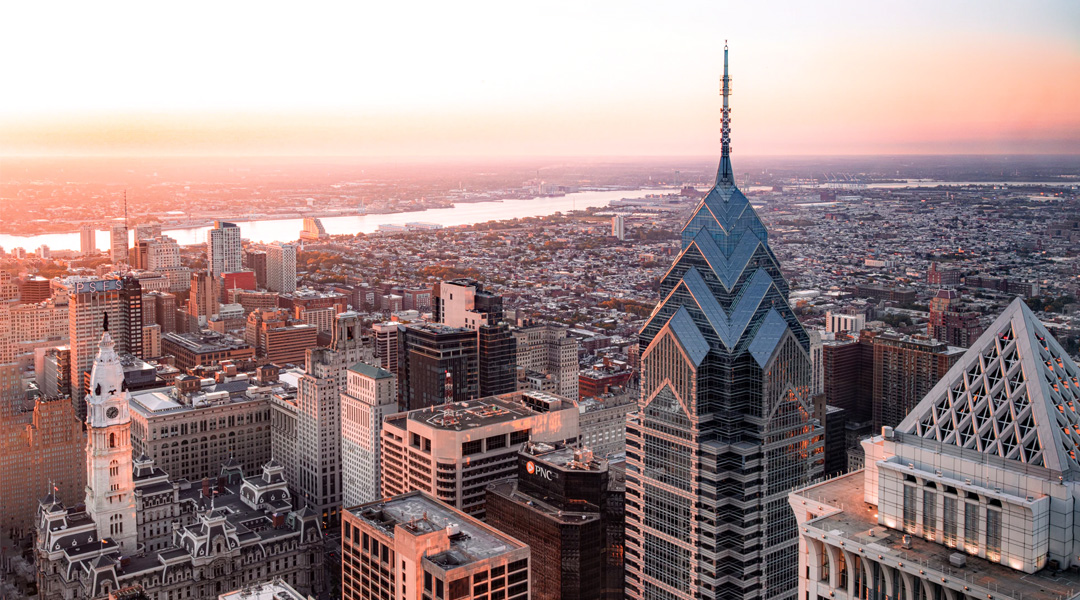 Greek in its origin, Philadelphia is a compound word construction comprised of two roots. Philos means "love or loving", and adelphos means "brother". The name Philadelphia literally translates to "brotherly love". This is why Philadelphia is known today as the City of Brotherly Love. That's not only its nickname, but its real name, too.
As a Quaker city, Philadelphia was very hospitable to visitors but also serious about its moral code. Telling a lie was a crime, games of chance like cards and dice were prohibited, and stage plays were seen as idolatry. Twenty years later, Philadelphia became the third largest city in the American colonies after Boston and New York. One can only guess how William Penn felt about that. A century later it would take on iconic status as the birthplace of a nation and the home the Declaration of Independence, Constitution of the United States of America, and the Liberty Bell.
In 1976, Philadelphia reaffirmed its association with love by erecting artist, Robert Indiana's now famous LOVE sculpture at John F. Kennedy Plaza in the Center City West area. The location is now known as Love Park.
JOIN THE MOVEMENT
Subscribe to our newsletter and receive inspirational stories delivered to your inbox that spread love, updates on our movement, and notifications on upcoming deals & events.