Love Button Flag
$20.00 – $40.00
Rated 5.00 out of 5
We are excited to announce the release of our new official Love Button Global Movement Love Flag (Now in 2 Sizes). As seen in use by Chris Martin of Coldplay during live concerts, this high quality crafted flag is made from 100% recycled material, and provide you with a whole new way to show your support for our movement. Use it as a flag, hang it in your favorite room or any other safe and creative way you wish.
Proceeds from your purchase of Love Buttons and Love Button products go toward helping various humanitarian organizations around the world. Learn More
FLAG SIZES:
Small: 36 inch (width) x 24 inch (height) –
Large: 60 inch (width) x 36 inch (height)
FLAG MATERIAL:
100% Recycled 300D Polyester
* Flag pole not included.
* Flag does not contain grommets.
* Flag designs may have minor variations from displayed flag photos. Designs improve and slightly vary from series to series. Please contact us if you have any questions.
Show the world your dedication to changing the world with love by proudly displaying a Love Button Prayer flag (Now in 2 Sizes). Modeled after the ancient Tibetan prayer flags used by Shamanistic Bonpo priests in healing ceremonies, these prayer flags have been created to spread the healing energy of love in the same powerful way.
The Tibetan word for prayer flag is Dar Cho, which means Dar, to increase life, fortune, health and wealth, to Cho or all sentient beings. The power of these ancient flags came from the blessings provided by the Bonpo priests whose title means, those who recite magical formulas. Coupled with the natural energy of the wind, it was believed that the prayers and blessings contained within the flag would then be scattered on the breeze to bring harmony, happiness and good fortune to all living beings in the local vicinity, and even around the world.
Originally, prayer flags would bear a mantra, sutra or even a full prayer on the front, based on a person's specific wishes or needs. The Love Button Global Movement prayer flag proudly displays the word, Love, because it is our intention to heal the world with love, and what better and more colorful way to do that than with a prayer flag proudly displayed from your front porch, flower garden or flagpole. Over 3ft in length, each one is sure to capture the attention of passersby and be an excellent conversation piece for you to share your thoughts on love with others. For those without an existing flag pole, Love Button prayer flags can also be hung horizontally and displayed in your home. Proudly display your dedication to the power of love today with a Love Button prayer flag and let the magic of its healing power take to the wind and change the world in ways that just might amaze you.
Additional information
| | |
| --- | --- |
| Weight | 1.0 lbs |
| Dimensions | 11 × 13.5 × 1 in |
| Flag Size | Small – 3' (Width) x 2' (Height), Large – 5' (Width) x 3' (Height) |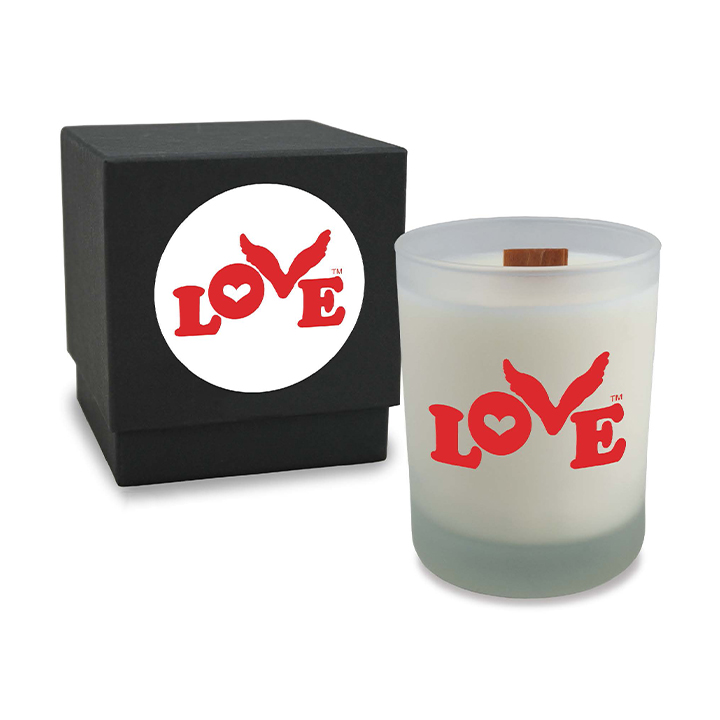 Love Accessories
Limited Edition
Create a cozy and loving atmosphere in any room with our new Love Button Frosted LUX Candle. This candle contains scented soy coconut wax enclosed in a frosted 14 oz. tumbler. The eco-friendly wood wick allows for a clean, long lasting burn along with a nice crackling ambiance. Whether you're snuggled up with your loved ones or enjoying a quiet moment of solitude, this candle will bring comfort and a touch of love to your life.
Proceeds from Love Button products support our loving mission fulfillment and go towards helping various like-minded organizations around the world. Learn more »
$

40.00