Foster Dad Adopts 5 Siblings So They Can Stay Together
Robert Carter, a single foster dad in Hamilton County, Ohio, adopted five siblings to ensure all the children stayed together.
As someone who spent time in foster care, Carter knows firsthand how difficult it is to be removed from home and taken from your siblings. He was separated from his younger sister and brother at the age of 12. Years later once he was emancipated, he was fortunate enough to be reunited with them, and was granted custody and legal guardianship.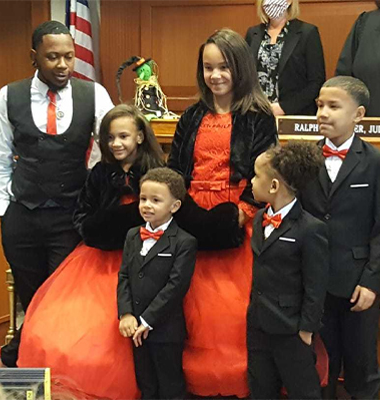 The five siblings, Marionna, Makayla, Robert, Giovanni, and Kiontae, were experiencing what Carter went through, and he knew he had to stop it.
"When permanent custody was awarded to JFS, the five siblings were already placed in three different foster homes," Adoption Worker Stacey Barton said. "Mr. Carter was the only foster parent willing and able to adopt all of the children. His childhood background has made him aware of the importance of keeping siblings together. He says that he enjoys being their father and that parenting them is easier than he could have ever imagined! His life is busy, with a lot of love, laughter and loudness! I have enjoyed working with him and witnessing the children bond as siblings."
"I understand how they feel," Carter said. "I understand what they went through, so it really touched me. I was already thinking about adopting all of the kids but when I saw them crying, I was like, 'Ok, I'm going to take all five to keep them together.'
Making memories to replace a lot of the bad ones. Every night I talk to them and let them know, 'I'm your dad forever. I know what it's like and I'm always here for you.' Like Marionna. She's warmed up so much since the beginning. At first, she didn't like me. She walked in my room last night and said, 'I just want to say thanks for taking us in and taking care of us when our real mom couldn't.' It just really touched me. So just making memories, letting them know I'm here and they never have to go. I'm here for them no matter what."
If you would like to support the Carter family, there is a GoFundMe campaign to help raise funds for a new home.
Read more about the story or read another inspirational story
JOIN THE MOVEMENT
Subscribe to our newsletter and receive inspirational stories delivered to your inbox that spread love, updates on our movement, and notifications on upcoming deals & events.