Regular Customer Surprises Homeless Dunkin' Employee With A Furnished Home
One family got the Christmas gift of a lifetime from a generous customer.
Ebony Johnson works at a Dunkin' Donuts drive-thru in Cincinnati, Ohio, and three years ago she met a regular customer named Suzanne Burke. Since the two saw each other every morning, they quickly became friends.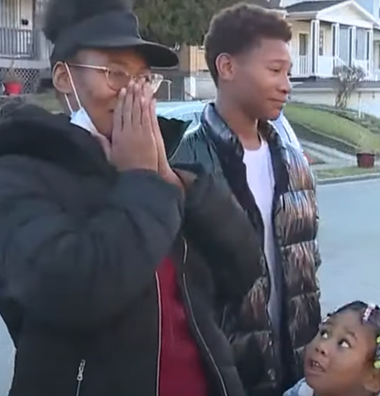 A few weeks ago, Suzanne noticed her favorite employee was not at work. When Ebony failed to make an appearance for several weeks, Suzanne became worried. She then learned that Ebony and her family had been evicted from their home after falling on hard times.
Suzanne immediately knew she needed to do something.
"When she experienced this hardship, I just wanted to see if I could help her," Suzanne told their local news station, WCPO. "Just improve her life and the life for her kids and make sure that they had stable housing so that she could continue to provide that excellent service she does at Dunkin'."
Burke teamed up with a few nonprofit organizations and partnered with a staging director to surprised Ebony and her family with a fully furnished home.
Ebony was in tears when Suzanne unveiled her loving present, unbelievably grateful for Suzanne going above and beyond to help.
"I'm just so thankful that we're back in our home," Ebony said. "The Lord really looked out for me because I kept praying and saying 'can I be at home before Christmas?'"
With the holidays around the corner, Ebony and her family can now spend a relaxing Christmas in their newly furnished home.
Watch Ebony and her family's reaction to seeing their new house for the first time in the video below!
JOIN THE MOVEMENT
Subscribe to our newsletter and receive inspirational stories delivered to your inbox that spread love, updates on our movement, and notifications on upcoming deals & events.
Advertisements