Mother 'Tears Up' in Restaurant Over a Little Boy's Gift to Her Daughter
Young mother Sophie Crehan was at a restaurant in Haydock, England with her family when she was left "tearing up" after a little boy's kind gift.
The restaurant the Crehans were at had a claw machine where someone could win a stuffed animal. Sophie's two-year-old daughter, Florence, fell in love with a specific stuffed toy inside.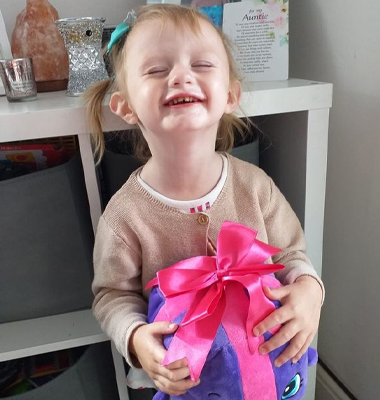 "They have a little children's play area in there," Sophie explained to local news. "I was on the grabbing machines and I was trying to win my little girl this pink and purple teddy that she really wanted.
"I had a go three times but failed – I just couldn't do it.
"There was a little boy stood next to me watching me do it. I said 'it's your turn now, you can have a go'.
"I came back to the table to eat my dinner and shortly after the little boy came over and said 'I've just won it for your little girl'.
"I said 'you don't need to do that' and he said 'no no, I've won it'.
"I was nearly in tears it was such a nice thing to do."
The boy won the stuffed animal and gave it to Florence.
Touched, Sophie followed the boy back to his family's table to give him £2 as a thank you. She explained to his parents about his kind gesture, making sure to emphasize what a lovely little son they had.
Florence has been especially grateful for the little boy's gift. Sophie noted that her daughter took the stuffed animal to bed with her to cuddle it that night.
Read more about the story or read another inspirational story
JOIN THE MOVEMENT
Subscribe to our newsletter and receive inspirational stories delivered to your inbox that spread love, updates on our movement, and notifications on upcoming deals & events.
Advertisements