A Teacher Creates the 'Kindness Crew' to Help Inspire Students to Spread Kindness to Others
One teacher in Louisville, Kentucky is teaching students the importance of being kind to others.
Stefany Bibb has worked at Kennedy Montessori Elementary School for more than two decades. She spent majority of that time as a teacher assistant but has been teaching her own classroom now for the past two years.
Bibb also created and leads the school's "Kindness Crew."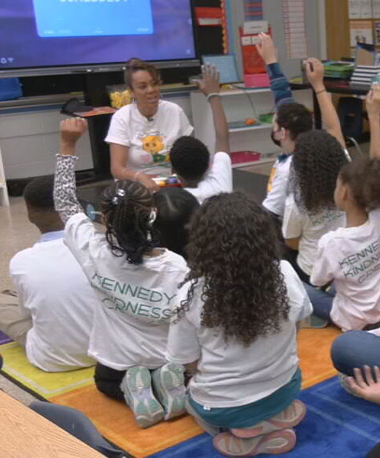 The Kindness Crew is made up of students in each grade level, and they focus on doing helpful tasks for everyone around them. Students in this crew hold doors for others, greet other students and teachers with posters that have positive messages, focus on being respectful and helpful, and make sure to let people remember to be kind.
"Listening to (students) talk about it and seeing them interact with each other, it's beyond what I thought," Bibb said.
Not only are the Kindness Crew students setting a good example for their fellow classmates, but the acts of kindness they're practicing at school are also being modeled at home.
"You can also spread (kindness) to your teacher or your loved one when you're not even at school," said Aniyah Cox, a fourth-grade student. "I like to make people smile and I like to make them smile because it lights up my world and I know it makes them feel warm inside, too."
"My favorite act of kindness is being able to hold the door for other people, because it shows that you care about them," said John Johnson, a fifth-grade student.
Kim Le, another fifth-grade student, said she plans to continue the Kindness Crew at her new middle school next year.
"I'm not doing this alone," Le explained. "I believe that if the whole school could be kind, the whole world could be kind. And that's just one step for kindness to the whole world."
Bibb hopes the students take the foundation of kindness they started at their elementary school and build on it in the future.
"Nothing you've heard from any of the students, nothing they do, is because of me," Bibb said. "I just gave them the outlet to do what they naturally do. They're naturally kind. There's nothing I can take credit for for how amazing they are and the kindness they spread. I'm just like, 'Here, do what you do.'"
Read more about the story or read another inspirational story
JOIN THE MOVEMENT
Subscribe to our newsletter and receive inspirational stories delivered to your inbox that spread love, updates on our movement, and notifications on upcoming deals & events.