Firefighters Across All 50 States Send Their Shirts to Help a Daughter Make Her Dad a Special Gift
Alli Marios, 23, started a birthday project for her dad who had recently retired from the Des Moines Fire Department. Her idea was to make a quilt from shirts featuring logos of different fire stations across the United States.
Marois explained to CNN that throughout her childhood her father would get a shirt from the local fire department whenever her family traveled. Since he hasn't visited all 50 states yet, she realized the quilt would be a great homage and gift to her father.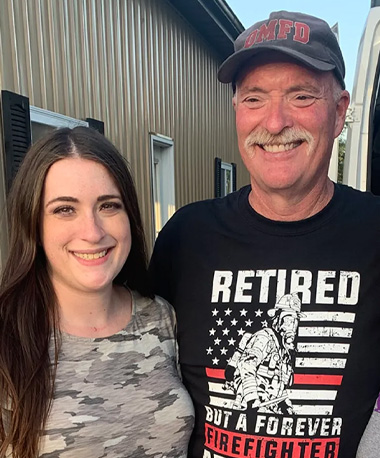 The woman received a shirt from a few states after writing letters to the fire stations but found the process to be slow and her request not always fulfilled. So, she turned to TikTok for help.
"[My dad's] been a firefighter for over 38 years," she explained in her now viral video. "You know how some people are just born to do something? Well, my dad was born to be a firefighter.
"So, firefighters of Tiktok, I'm asking you for your help to please send me a shirt from your state."
Her video worked and people from every state began sending her their own shirts.
Marois has since completed her goal of receiving shirts from all 50 states—plus more. She also got shirts from different countries like Iraq and Afghanistan, and even received handwritten letters from firefighters everywhere.
In her latest TikTok video, Marois is in the process of putting the quilt together. She created a scrapbook of the letters people sent her and is planning to make a video of the completed project with her dad's reaction to the gift.
Marois has found the social media outpouring to be "heartwarming" and "a very humbling experience."
"You wouldn't really expect random strangers to help someone they don't know," she said. "As soon as all of these shirts started to come in, I got very emotional because [people are] helping someone they don't even know."
Read more about the story or read another inspirational story
JOIN THE MOVEMENT
Subscribe to our newsletter and receive inspirational stories delivered to your inbox that spread love, updates on our movement, and notifications on upcoming deals & events.