A Stranger's Act of Kindness Saves a Family's Vacation After Online Plea
While on their way to Mexico for a family vacation, Kristen Marten realized she had forgotten her youngest son's medication.
Before turning back, Marten decided to make a post on a local moms Facebook group at 5 a.m. asking if someone was flying out that day or the next that would be willing to bring his medication with them.
One stranger named Mariana Miller saw the post and immediately jumped into action.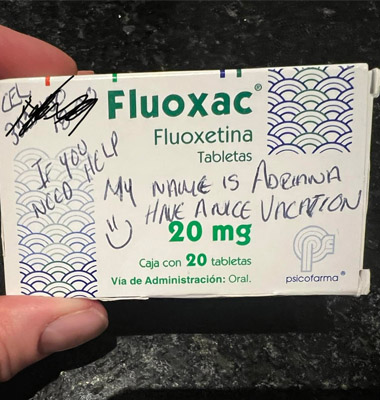 Miller lives in Victoria's West Shore, but that didn't stop her from purchasing the required medication and arranging it to be delivered at the family's hotel in Mexico.
"Cell [number] if you need help," Miller wrote on the medication's box. "My name is Adrianna. Have a nice vacation! :)"
The family was overwhelmed at this stranger's act of kindness for saving their trip.
"Marina Miller – someone I've never met, let alone spoken to, reached out immediately and in a matter of minutes not only had me sorted out but had the medicine arrive at our hotel when we arrived and paid for it all herself!" Marten wrote in another Facebook post.
"Her act of kindness left this exhausted and overwhelmed mom welling and filled with love up and set our trip off on the right foot. We are eternally grateful to her and I have to say – I'm fangirling a bit over her now and can't wait to meet her in person."
Marten plans to pass along the kindness she received from Miller to another mom in need.
Read more about the story or read another inspirational story
JOIN THE MOVEMENT
Subscribe to our newsletter and receive inspirational stories delivered to your inbox that spread love, updates on our movement, and notifications on upcoming deals & events.