North Carolina Florist Donates Hundreds of Flowers to Widows on Valentine's Day
For the second year in a row, a North Carolina woman celebrated love on Valentine's Day by delivering flower arrangements to widows.
Ashley Manning is a 39-year-old florist who started a Valentine's Day Widow Outreach project after an experience she had giving flowers to an elderly widow in her neighborhood.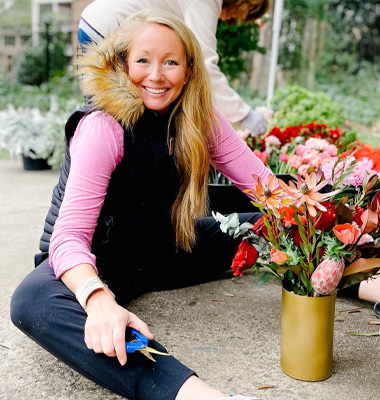 "And [the elderly widow] said, 'This is just so nice, it just makes me want to cry'," Manning told news outlets. "And she started to cry and then my 10-year-old son started to cry. We stood there and talked to her and she told us that her husband had been gone for so long. And she said, 'When they're gone for so long, you forget to be sad on days like this because you forget what it was like to even get things on Valentine's Day'."
Last year, Manning beat her initial goal of delivering 25 arrangements to widows by completing 121. This year, her project grew exponentially.
People heard about Manning's project and wanted to help. The florist was able to gather 150 volunteers to assist in making the arrangements and delivering them. Local businesses and donations also chipped in to help, letting Manning create over $14,000 worth of flowers in total.
A video on her Instagram shows how each elaborate arrangement contained between 30 to 35 stems.
In the end, over 400 widows were given a little extra love on what might usually be an isolating holiday.
"It's our job to show our kids how to be human," Manning said. "And if we all were just a little bit more selfless and thought a little more about other people, I think this would be a whole different world."
Read more about the story or read another inspirational story
JOIN THE MOVEMENT
Subscribe to our newsletter and receive inspirational stories delivered to your inbox that spread love, updates on our movement, and notifications on upcoming deals & events.