Couple Text Baby Shower Invite to Wrong Number, Gets a Gift From Stranger In Return
Couple David Amastae and Candace Countryman recently welcomed their baby girl, Luna. Weeks ago, prior to the birth of their child, the Californian couple had been preparing for a baby shower and sent out invites via text message. Unknowingly to them, they had accidentally sent out one of the texts to a stranger located in Camby, Indiana named Angela White.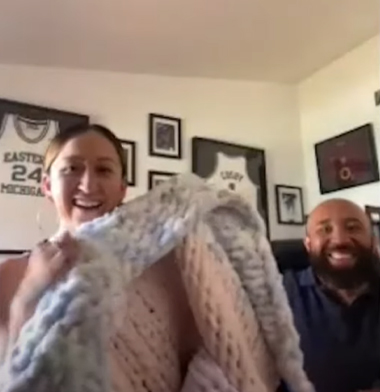 "Every time I thought about it, I was like I didn't get that text just randomly," White told her local news station about receiving the message. "I don't know why, but there was a reason why I got that text and [an invite] to that shower."
White had a small business, Brayve Blanket Co., where she created blankets by hand. She felt compelled to send the expecting couple a gift even though she did not know them. So, over the next three weeks, she knitted a brand-new blanket to send to California with zero expectations.
"I just couldn't get that feeling to go away, so I made the blanket and sent it with hopes it would make its way to them and it did," White said.
Sure enough, Countryman and Amastae received the gift in the mail and were blown away by White's thoughtful act of kindness, especially from someone they had never met before.
The gift had included a note from White, explaining the misdirected text message.
"My mom kind of put it best," said Countryman. "She was just like oh my gosh, Luna is so blessed. My mom never talks like that. She is just so blessed and loved that a stranger sent her a gift. This is so crazy."
All three eventually met over Zoom thanks to the help from a local TV station. The couple was eager to thank White for her generosity, and White was happy to see her blanket in such good hands.
Read more about the story or read another inspirational story
JOIN THE MOVEMENT
Subscribe to our newsletter and receive inspirational stories delivered to your inbox that spread love, updates on our movement, and notifications on upcoming deals & events.