A High School Teacher Helps a Student Who Graduated Alone at the Graduation Ceremony
An Alabama high school in Bessemer city recently held its graduation ceremony for all the senior students. While one teacher was cleaning up after the festivities ended, he noticed a student lingering at the school, alone.
The teacher, Dominique Moore, approached the teen to ask him why he was still there.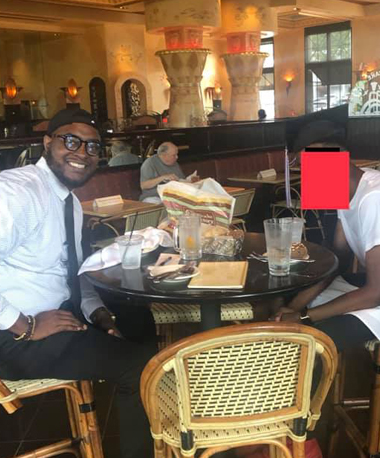 "I know his moods and I knew he wasn't himself," Moore explained. "I asked him, 'Where are your people?' and he was like, 'Nobody's here'.'
Moore then told him, "I expect big things from you and it's going to be okay."
The student informed Moore he did not have a ride home, so the teacher offered him a ride and asked if he wanted to grab lunch. He agreed to both.
Moore never asked for any specific details about the situation because he wanted the lunch to be a celebration of the student's accomplishment.
The two had a great time, but Moore wanted to help even more. He wanted to help the student's future.
Moore made a Facebook post about what happened, and asked people to donate money to his cashapp – $mooredaeducator – so he could gift it to the teen. Within a day, more than $5,000 in donations came pouring in.
Both Moore and the teen were blown away by the support.
"He is out done at the out pour of support you all are showing," Moore wrote in a follow-up Facebook post. "I let him read every comment and post you all posted!!!!"
With all the money, Moore helped the student open a checking account. He is also driving the teen to and from his current job at Amazon.
Moore explained the money will be going towards transportation and housing, but once that is solved everything will be saved for college.
"We take people and life for granted. Even though we have bad, in this moment it shows that mankind is good."
Read more about the story or read another inspirational story
JOIN THE MOVEMENT
Subscribe to our newsletter and receive inspirational stories delivered to your inbox that spread love, updates on our movement, and notifications on upcoming deals & events.
Advertisements