A Mother and Son Duo Turn Their Delivery Kitchen Into 'Feed the Needy' Service With Free Meals
Before COVID-19, mother Heena Mandavia and her son Harsh used to run a delivery kitchen in Kandivali, India. The duo served homemade food to anyone who stopped by.
Once the pandemic hit, the mother and son decided to turn the kitchen into a social service to feed the needy thanks to an idea from one of their regular customers, Abhinav Chaudhary. The man told Harsh he wanted to donate money to feed 100 people, but he could not find anyone to help since he did not want to risk going out due to corona. Harsh loved his proposal enough to do research, and he found a suburb in Mumbai where they could help.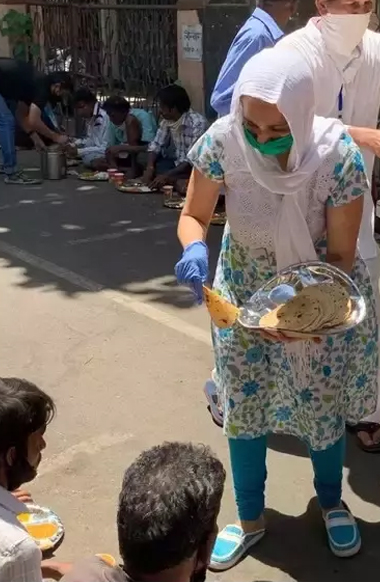 Heena and Harsh went into the area and fed 100 people in-need with a full meal consisting of roti, sabzi, dal, and rice.
After their first round, the two decided to continue helping others until at least July 31st.
Currently they feed 200-250 underprivileged people daily during lunch and dinner hours. Every dish is prepared in their kitchen in sanitized and hygienic conditions underneath Heena's watchful supervision. Once made, the food is now taken to a distribution center where people queue up to grab a free meal.
The Mandavias' service has also gained traction online.
"It all began when I put an appreciation post on my social media regarding the first food donation activity," Harsh explained. "And after that people started donating money online from all over India. In the first two days, we received Rs.11000 and then we started feeding the needy on a daily basis. I kept posting pictures and videos of the food and donation drive every week and donations kept pouring in. In 49 days, we reached Rs 3.2 lakhs from five countries."
With the help of others donating, Heena and Harsh have given over 5,000 free meals.
"People waiting in the queue literally feel elated when they see my car approaching. . . There is one lady who is differently-abled, comes daily in a rickshaw and we arrange for her to sit near the serving counter and she keeps blessing and waving at us every time we serve her food. These little incidents really encourage us to do more."
Read more about the story or read another inspirational story
JOIN THE MOVEMENT
Subscribe to our newsletter and receive inspirational stories delivered to your inbox that spread love, updates on our movement, and notifications on upcoming deals & events.