Dedicated Hero Teacher Delivered Lunch to His Students Every Day During COVID-19 Lockdown
Zane Powles, an award-winning teacher from the United Kingdom, made sure all his students during the lockdown had access to food every day.
The moment Powles was told classes were to continue at home, he jumped into action knowing many kids would struggle to eat without schools providing them lunch.
"My first thought was how are we going to get our children meals," Powles said. "We have vulnerable families that need help, so we had to come up with a plan."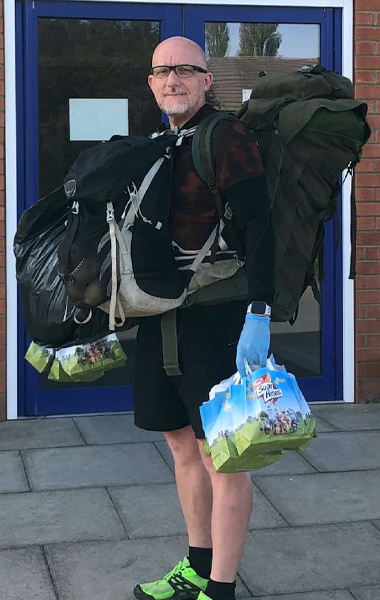 The assistant head teacher mapped out where students who ate free lunches lived. Every day, he got up at 7AM to pack over 80 meals prepared by the primary school's kitchen staff into bags, and he strapped them to his arms, back and chest. He would then spend embark on a 7.5-mile journey (a distance that took him almost 3 hours to complete) on his bicycle to deliver the food to each student.
"The kids are really happy to see me believe it or not until they see all the papers in my hands," Powles laughed. "It's great because I can make sure all our families are okay and keep that connection to school for the kids."
Since school are closing for the summer, Powles delivered his last package on July 17. He's happy to report he never missed a day since he began at the start of April.
He estimates he biked over 600 miles and carried roughly four tons of food. Around 7,500 packed lunches were given over the last four months.
"[A]fter all these months it was a bit emotional for it to come to an end – I love seeing my students and checking up on them. It's so important to me. I'm just doing my job at the end of the day. My role is to help nurture and educate children, and to take care of them. It's just being done in a way I never expected when I started this career."
Powles added: "I can't believe how far it's gotten – I never expected to do any of this, but it's crucial that it doesn't end here. Children are the most important people in the world and we must protect them at all costs."
Read more about the story or read another inspirational story
JOIN THE MOVEMENT
Subscribe to our newsletter and receive inspirational stories delivered to your inbox that spread love, updates on our movement, and notifications on upcoming deals & events.