A Community Helps a Mom After Stores Run Out of the Only Food Her Autistic Daughter Eats
Mother Crystal MacDonald has an 11-year-old, nonverbal autistic daughter named Ashlyn who is very loyal to her favorite meal: canned SpaghettiOs with miniature meatballs. While Ashlyn likes a few other things like pizza and grilled cheese, her absolute must have is the Campells branded spaghetti.
"For years, it's been her 'go-to' comfort meal," MacDonald explained.
When the pandemic hit in March, Ashlyn's usual routine was disrupted and caused her to only want her preferred dish because it made her feel safe in an otherwise chaotic time. Even generic brands were not good enough—she needed her SpaghettiOs.
"Structure is what centers her — it gives her a sense of control when everything seems chaotic and overwhelming," MacDonald said. "Ashlyn is most comfortable when she feels like she's living 'Groundhog Day' every day. SpaghettiOs are a sensory experience for her."
The MacDonald parents were happy to feed their daughter her SpaghettiOs meals to help alleviate their daughter's stress. The canned food was always on store shelves and easy to get.
Then, in mid-April, everyone began stocking up. SpaghettiOs were cleared from markets and becoming more and more difficult to get.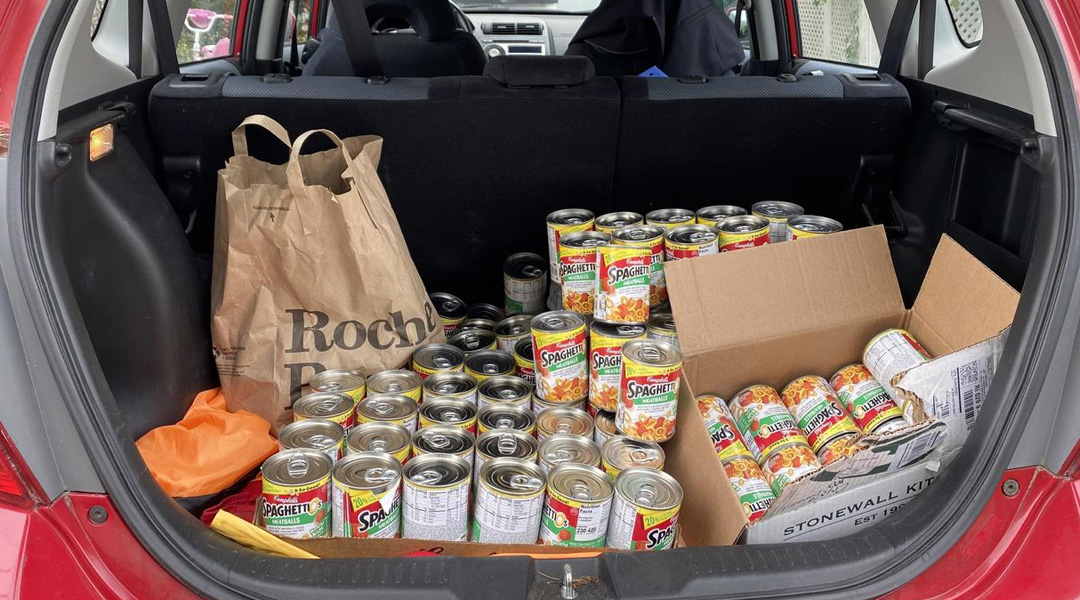 "People were going nuts, loading up on all the canned goods they could find, including SpaghettiOs," the mother said. "I had to go to every grocery store in the area to find enough for Ashlyn. It became like a treasure hunt to find just a couple of cans."
For the next five months, MacDonald went out of her way to drive to many stores, hoping to find the canned pasta. She was even interviewed by her local newspaper about her efforts as it related to the food shortage in the city. It was this interview that ended being her saving grace.
Suddenly, SpaghettiOs began showing up at the MacDonald's doorstep. Hundreds and hundreds of cans were being sent by people in the community who had read about Ashlyn's story and favorite meal. They all wanted to help.
People searched their own pantries for SpaghettiOs. Others started calling grocery stores around them to ask if they had any of the canned food in stock.
One person, Janet Gallo, explained her reasoning to send a few cans to the MacDonalds: "When I read about Crystal's story, I knew immediately that I wanted to help. We've all felt the stress of items being out of stock during this pandemic, but Crystal doesn't have the option to make substitutions like most people do."
Crystal MacDonald is forever grateful for her community for helping.
"If it wasn't for the kindness of people like that, we would not have gotten by," she said, adding, "When you have a child with special needs, their future is always in the back of your mind. Who's going to take care of them when I get old? And to see people come out and embrace us, gave me so much hope that they will love her and take care of her when I'm not here."
Read more about the story or read another inspirational story
JOIN THE MOVEMENT
Subscribe to our newsletter and receive inspirational stories delivered to your inbox that spread love, updates on our movement, and notifications on upcoming deals & events.