A Newlywed Couple Delivers Their Wedding Flowers to Others Needing a Little Bit of Joy
Chance and Hannah Buckner got married in mid-September. Instead of throwing out the flower arrangements used at their wedding, the couple decided to give them away. They hoped a small bouquet would provide some joy and lift the spirits of anyone going through a hard time.
Hannah had posted on Facebook asking if anyone wanted some free flowers.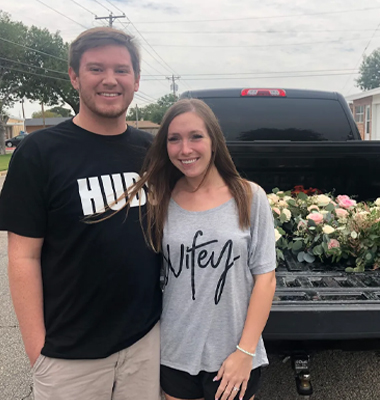 She wrote: "I would like to deliver these to anyone needing a lift in their spirits. If anyone knows of someone going through a tough time, an elderly or disabled person that is alone on their street, even if you've never talk to them but just see them occasionally. Please message me their address and I will deliver a flower arrangement to them with an encouraging note."
To Hannah's amazement, she received over a hundred comments and private messages from her post. People had nominated others for the small gift and wanted to give those they knew a happy surprise. Those nominated included: patients battling COVID-19, cancer, recent losses, a teacher going through a rough patch, and someone a friend felt was lonely.
Hannah and Chance got to work and spent six hours delivering flowers to roughly 20 locations near San Angelo, Texas.
"We delivered to numerous loved ones, friends and coworkers of people in the community all going through different things in their lives," Hannah said. "We had a few people cry, got some hugs and many thank you's. We had one lady hug us and cry and that one person made it all worth it.
"I know I always enjoy getting flowers, so we just wanted to spread that same joy to others in need. Chance and I are believers and simply wanted to do what God tells us to do, which is to love and spread love to your neighbors."
Read more about the story or read another inspirational story
JOIN THE MOVEMENT
Subscribe to our newsletter and receive inspirational stories delivered to your inbox that spread love, updates on our movement, and notifications on upcoming deals & events.