Cab Driver Iqbal Alimohd Has Been Delivering Groceries to In-Need Seniors for 15 Years
A cab driver has spent every Saturday delivering groceries to the elderly for the past 15 years.
It first started when the driver, Iqbal Alimohd, had a few regular clients who struggled to shop as time went on.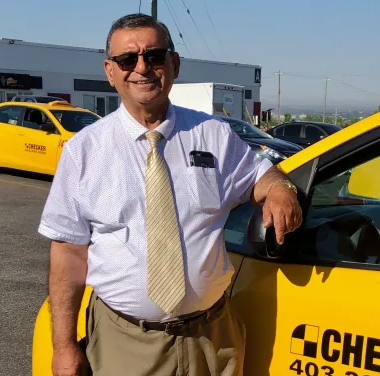 "With time going by, I see they're not doing good," he told his local radio station. "And then I told them, 'From now on, I buy your groceries, because you [don't have] much energy left'."
Iqbal has grown his operation to serve 20 to 25 seniors over the years.
During the week, Iqbal's wife, Mumtaz, takes phone orders and writes everything down in a spreadsheet. Then on Saturday, Iqbal goes to a nearby store right before it opens to buy all the groceries he plans to deliver that day. His sons, Faisal and Yasin, have now started helping their dad during the pandemic.
It takes most of the day for the cab driver to finish (often around 7 P.M. most weeks), but Iqbal finds it fulfilling.
"I think the rest of it is so much more impactful," Yasin said. "[My dad] becomes part of their family."
In addition to delivering groceries, Iqbal also spends hours socializing with the seniors. He drives them to appointments and does anything he can to help. It was something he kept quiet even from his own family.
Faisal explains they did not realize how much their dad was involved beyond bringing groceries until they heard from seniors and received thank-you notes.
Sometimes, Faisal says, there are children of seniors who tell him, "Your dad's been there when we haven't been able to be there."
Iqbal is a firm believed in "work, no words," and does not look for gratitude or a pat on the back. Instead, these acts of kindness give him a sense of why he's here, and the Alimohd family hopes it inspires others to take up on it and pay it forward.
Read more about the story or read another inspirational story
JOIN THE MOVEMENT
Subscribe to our newsletter and receive inspirational stories delivered to your inbox that spread love, updates on our movement, and notifications on upcoming deals & events.