Fifth Grader Creates 'Kindness Closet' to Help Classmates Who Need Extra Clothes
Anderson Musser, a fifth grader from Shreve Elementary in Ohio, created something called a 'Kindness Closet' to help students who needed extra clothes.
The idea came from an exchange Anderson had with a close friend who privately told her that she wished she had girls' clothes to wear to school. The student's family could not afford new clothing, which means she only wore hand-me-downs from her older brothers.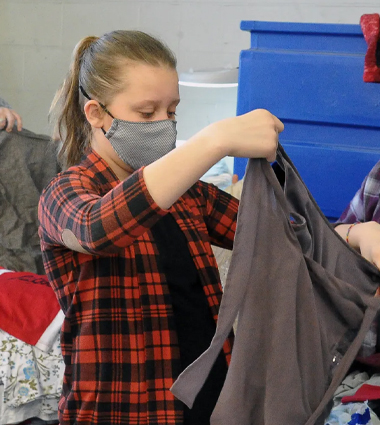 "I went to my closet and got the clothes (and shoes) that I had outgrown," Anderson said. "I gave them to [my friend] at school the next day. And she was really happy."
After seeing the joy on her friend's face, Anderson wanted to continue helping.
"She realized what a difference that made for her friend," said Jessica Musser, Anderson's mother. "That was so easy to do. She asked, 'Can we do this for more people?' She took the initiative at that point."
Anderson approached her teacher, Jennafer Flinner, with her idea to create a closet where people could donate clothes for students to take. Flinner was supportive and encourage the girl to take the proposal to the principal.
"She came to me, and I said, 'Yup, let's do it,'" Principal Adam Stein said. After his approval, Anderson and Stein worked on logistics and formed a business model for her Kindness Closet. Stein found space for her at the school to use and they agreed to ask nearby stores for donations.
Anderson wrote and hand-delivered letters to the businesses in the area. Many of them responded back positively, giving her closet some clothes, shelves, bags, hangers, and store credit.
Although COVID-19 set back her Kindness Closet opening date, Anderson is planning to launch her charity by the end of the year.
Once open, student volunteers will help keep the closet clean and organized.
Students who need clothes can discreetly fill out a form to avoid being singled out. Once a staff member approves, they can go into the closet and get a few items. Anderson is hoping these new clothes will bring her classmates joy and confidence.
"It's great for Andi to see her vision come true," Principal Stein said. "Proud is an understatement, for sure. It's what every principal and parent would want for their kid to do – to put others first."
Read more about the story or read another inspirational story
JOIN THE MOVEMENT
Subscribe to our newsletter and receive inspirational stories delivered to your inbox that spread love, updates on our movement, and notifications on upcoming deals & events.