A Restaurant in Central Texas is Offering Free Meals to the Community, No Questions Asked
When a major winter storm hit central Texas last February, a restaurant in the area gave back to the community by offering free meals to anyone who asked.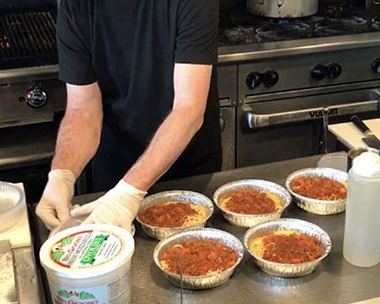 Restaurant owner Vira Chudasma wanted to support everyone who had helped her three businesses over the past seven years. Although she had temporarily closed her restaurant because of COVID-19 restrictions, she made the decision to open it back open during the winter storm. Chudasma and her husband, daughter, and two visiting chefs created a limited menu based on what items they had available and got to work.
"The community backs me up at a good time and I have a kitchen full of supplies," Chudasma told her local news reporter. "Why would I not cook?"
She posted about the offer for free pasta meals on social media: "Given the week we all have endured we know that supplies are limited and warm food can be scarce. Please don't hesitate if you or a friend could use a hot meal. We are so blessed and thankful for this community and want to give back anyway we can."
Within two hours of making the post, the restaurant had fulfilled 150 orders. Their customers ranged from single mothers wanting feed their children to whole families that needed to feed 10 or more people. Anyone in need of a hot meal was able to call the restaurant and ask, no questions asked.
Others have also started to chip in and help. People have begun donating to Chudasma's Free Meal program, allowing the restaurant to continue buying supplies and give free food away.
Thanks to the overwhelming support, Chudasma is planning to continue the program for the near and far future.
Read more about the story or read another inspirational story
JOIN THE MOVEMENT
Subscribe to our newsletter and receive inspirational stories delivered to your inbox that spread love, updates on our movement, and notifications on upcoming deals & events.