A Couple Gives a Car to Waitress Who Walked Over 14 Miles Every Day to Work as a Surprise
In Galveston, Texas, a couple gave one waitress the generous surprise of a lifetime.
Waitress Adrianna Edwards traveled 14 miles nearly each day by foot in order to work her shift at a Denny's restaurant. The total commute took her over 4 hours. While not ideal, it was something Edwards had to do to stay afloat.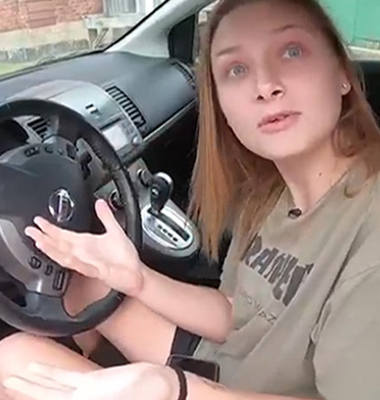 "I have bills to pay," Edwards explained to her local news station. "I've got to eat. You've got to do what you've got to do."
The waitress' life changed when one couple, who wished to remain anonymous, sat down in her section on a Tuesday morning for breakfast. Edwards came over to take their order and started talking to them, eventually telling the two about her walking predicament. The couple then finished their meal and left.
Hours later, they returned with a gift for Edwards: a 2011 Nissan Sentra they purchased at a Classic Galveston Auto Group.
Edwards was completely overwhelmed by the surprise.
"She teared up, which made me happy that she was so moved by that," said the woman who helped buy the car.
Thanks to the present, Edwards can now drive back and forth from her house to work in only 30 minutes – cutting her commute time by 3 and a half hours.
"I still feel like I'm dreaming," she gushed. "Every two hours, I come look out my window and see if there's still a car there."
The couple refused to take any forms of payment in return. The only thing they asked Edwards to do was to someday do a kind gesture for someone else in the future. She intends to do just that.
"I just hope that one day when I'm financially stable enough, I can help somebody else in need."
Read more about the story or read another inspirational story
JOIN THE MOVEMENT
Subscribe to our newsletter and receive inspirational stories delivered to your inbox that spread love, updates on our movement, and notifications on upcoming deals & events.