Teen With Autism Misses Train, 'Polar Express' Crew Gives the Him the 'Gift of Human Kindness'
Ty Swartout, who is non-verbal and autistic, loves the popular kids book "The Polar Express." The 18-year-old has read the novel hundreds of times and he makes sure to always watch the movie at least once a month.
A few months ago Swartout's parents discovered there was a real-life version of the magical holiday train in Arizona at the Grand Canyon Railway. They immediately knew they had to take their son for a visit and booked a ride.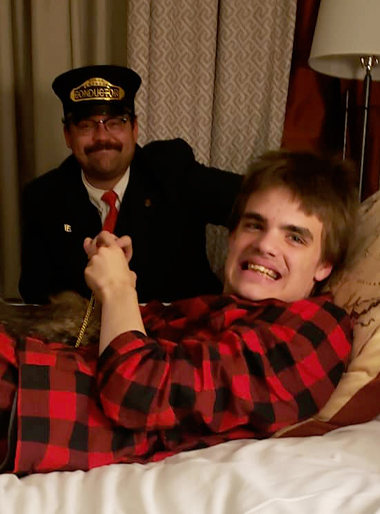 The 4-hour drive to the railway hotel went by smoothly. It was only until they family reached the station did things become difficult.
A combination of Ty's excitement and the busy environment around them caused Ty to become overstimulated. Too overwhelmed, he couldn't board the train.
The train staffers refused to leave without Ty (they even held up the train), but his parents insisted they go on without them. Once the train left the station, the family went back to their hotel room.
"I cried all the way back," Ty's mother, Angie, wrote on a public Facebook post. "My heart was shattered. I wanted this so badly for my son."
After the Swartouts got to their hotel, someone knocked on their door: it was from a hotel staffer and a police officer who came to check on Ty and make sure he was okay. They also said they wanted to do something to make it up to the family letting them reschedule their visit with free special need accommodations.
While Ty's father, Lloyd, worked with the hotel staffer, Ty and Angie curled up together to read The Polar Express.
Then, another person came in.
"I had just finished when my husband came back in and he said that there was someone special that wanted to visit," wrote Angie. "Ty and I shook our head yes and in walks the train conductor."
The train conductor sat down near Ty's bed and chatted with him. Ty was star struck, but excited and happy to see someone straight from the book. Before the conductor left, he made sure to give Ty his pocket watch.
"[The hotel and railway] wanted everyone to experience something special and magical," Angie continued. "They succeeded. We may not have gotten to ride a train but we got something even more magical… We got the gift of human kindness!"
Read more about the story or read another inspirational story
JOIN THE MOVEMENT
Subscribe to our newsletter and receive inspirational stories delivered to your inbox that spread love, updates on our movement, and notifications on upcoming deals & events.