50-Year-Old Man Makes Canes for Veterans In Need From Old Christmas Trees
A man in Texas is reusing old Christmas trees to make free, decorative canes for veterans.
After serving for 8 years in the US Army, Jamie Willis returned home back to central Texas disabled and unable to work. He now needed a cane to walk around.
Willis got his first cane from the Veteran Affairs office, and he couldn't help but notice how annoyingly ugly and unstable it was. He could not rely on it as it frequently collapsed while in use.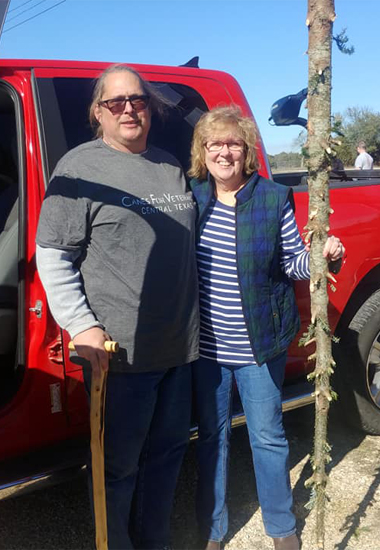 He soon learned that he wasn't the only veteran who felt the same way about their walking stick. In fact, many were not able to afford better ones and some didn't even receive one at all. Willis started Canes for Veterans Central Texas in 2016 as an answer to this problem.
The non-profit is run by Willis who spends his days handcrafting a cane to give to a veteran in need. He learned how to make the perfect cane through another organization called Free Canes for Veterans. The owner, Oscar Morris, taught Willis how to make one on his own.
Ever since then, the 50-year-old veteran has made and delivered over 200 canes, all at no cost.
"I do this so I don't sit home all day feeling sorry for myself," Willis told CNN. "This is all out of kindness. I do everything out of pocket and from donations."
Many of the donations this month have come from Christmas trees now that the holidays are over. People donate their old tree to Willis who then spends an entire day making, packaging, and shipping one can to a veteran who needs it.
"One day, grab a cane and walk with it," Morris said. "You will feel broken because others will see you as broken. We make our canes for veterans to look 'cool' while giving honor for their service."
Read more about the story or read another inspirational story
JOIN THE MOVEMENT
Subscribe to our newsletter and receive inspirational stories delivered to your inbox that spread love, updates on our movement, and notifications on upcoming deals & events.