Blankets of Hope Partners With Students to Deliver 20,000 Blankets to the Homeless, With Heartwarming Notes Attached
In 2016, two brothers living in New York City quit their jobs after realizing how unfulfilled they felt in life. The bold move was intimidating and scary, but an idea struck one day after they realized how often they passed people in need on the street. They decided to deliver blankets to the homeless.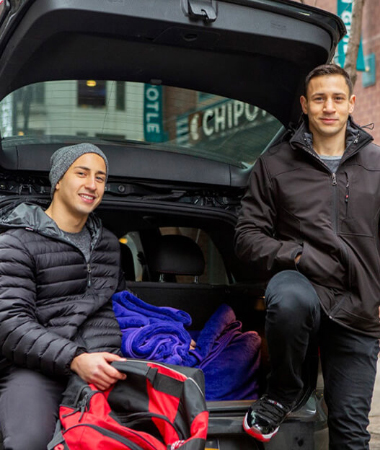 The brothers, Mike and Nick Fiorito, started a global nonprofit organization called Blankets of Hope in response. Often, many homeless Americans don't even have a blanket to protect themselves from the freezing cold. This is why Blankets of Hope aims to provide blankets to someone needing a little warmth and love. Each blanket also comes with a special surprise: an inspirational note handwritten by students across the country.
The nonprofit has partnered with over 150 schools in 32 states—plus other countries like Canada and Mexico. Mike and Nick send the blankets to schools free of charge. Once received, students are encouraged to submit a motivational and loving message to be attached to one blanket. The blankets are then delivered to homeless shelters in their local communities.
It's a great way to not only provide for others, but to also teach a younger generation on the importance of love and caring for others.
"[The students] close their eyes and put themselves in the perspective of someone who's homeless and they really exercise that empathy muscle," Mike explained.
To date, nearly 20,000 blankets have been delivered.
Their latest goal is to hand out another 20,000 blankets this winter. Mike and Nick hope their blankets not only keep people warmer, but that they provide a friendly connection to someone who may not often receive any.
Read more about the story or read another inspirational story
JOIN THE MOVEMENT
Subscribe to our newsletter and receive inspirational stories delivered to your inbox that spread love, updates on our movement, and notifications on upcoming deals & events.