For 9 Years, Veterinarian Gives Free Medical Care to Pets From Homeless Pets Across the California Coast
Dr. Kwane Stewart has spent the last nine years wandering across the California coast treating homeless people's pets for free.
Back in 2011 during the recession, Stewart was heartbroken when he saw the number of animals being surrendered to his veterinary clinic. As people lost their homes, many pet owners decided to turn their pets to shelters rather than take them with them to be homeless.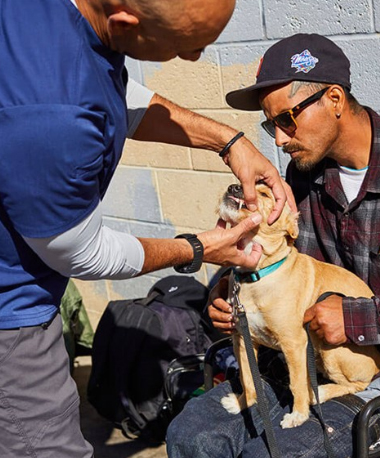 Feeling inspired and wanting to help, the veterinarian brought his supplies to a local soup kitchen event where he treated any homeless pets around. He took care of 15 animals in a single day. From that moment, Stewart found his new purpose.
He has since spent his spare time going to impoverished areas to walk along the streets, hoping to find animals he can vaccinate or take care of for free.
"I love the work," he told TODAY. "I do it because it's hugely rewarding to me, spiritually. I'm just very fortunate to be living out my dream to be a vet in the first place."
Many people are often wary at first when Stewart approaches, but when they accept his help, they are always extremely grateful.
"As I examine their animal and really give focus to their animal — not them — they just begin to open up," he said. "Some of the things these people have gone through that they've shared with me, it's remarkable."
Stewart also personally pays for any expensive surgeries or operations the animals may need. He recently set up a GoFundMe campaign to raise money for his mission in helping those in-need.
At the moment, Stewart has helped healed more than 400 animals and has no intention of stopping any time soon.
Read more about the story or read another inspirational story
JOIN THE MOVEMENT
Subscribe to our newsletter and receive inspirational stories delivered to your inbox that spread love, updates on our movement, and notifications on upcoming deals & events.