One Domino's Employee Went the Extra Mile to Surprise a Birthday Girl After Guests Don't Show Up for Party
One employee from Domino's went above and beyond his duties to brighten up a customer's day.
A Domino's Pizza store in Coolum, Queensland received a large order from a family for a bunch of pizzas to cater an upcoming birthday party. Unfortunately, the mom had to call in the day of the party to change the order to only one pizza because her daughter's peers didn't show up.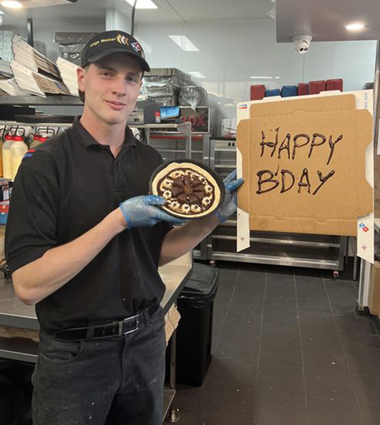 The worker who took the call ended up sharing the sad news to his supervisor, Miles. Miles then decided he would try and do something to cheer the young girl up.
Miles quickly got to work and put together a makeshift cake. He created a custom chocolate dessert pizza that was topped with chorus and brownies. Before the mother came by to pick up the one pizza, he also wrote "Happy B'Day" on the back of the box with chocolate syrup.
The mother, Lauren O'Rourke, was touched when she arrived at the store. She later expressed her feelings on a Facebook post, saying, "[My daughter] Skylah had a lovely birthday with two very special friends. The visit from Miles at our door was overly special and the biggest surprise. The love from our community has been the most memorable for our family. So much love. We are so appreciative and grateful to live this beautiful life. Sending love and happiness to everyone."
Read more about the story or read another inspirational story
JOIN THE MOVEMENT
Subscribe to our newsletter and receive inspirational stories delivered to your inbox that spread love, updates on our movement, and notifications on upcoming deals & events.