Mohan Sudabattula Collects, Cleans, and Gives Wheelchairs, Crutches, & More to Help Disabled Children & Adults Who Can't Afford Them
When Mohan Sudabattula was 10 years old, his parents took him on a life-changing trip to their family's ancestral village in India. He vividly remembers his mother taking him to an orphanage and school for disabled children because she thought it was important for him to see how it differed from their home in Utah.
Some of the children at the place were missing limbs. They used old lawn chairs with bicycle tires attached to move around because they couldn't afford or had access to a proper wheelchair. It wasn't just their situation that stuck with Sudabattula, however, but also their cheerful attitude.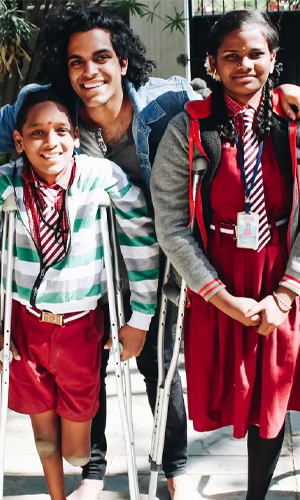 "Most of them were still laughing and smiling and happy to meet us," he remembered.
As Sudabattula grew up, he never forgot what he had seen in India. So, in 2016, he decided to go all in and started his own nonprofit called Project Embrace.
Project Embrace involves redistributing used wheelchairs, walkers, canes, crutches, slings, orthotic shoes, and braces to disabled children and adults who can't afford them. Sudabattula and his friends first started out by scouring local thrift stores for any mobility equipment. They asked anyone they knew if they had any wheelchairs lying around. Anything useful they found was cleaned and donated to local low-income people in Utah.
When word got out about their efforts, Sudabattula created a website. From there, people began donating equipment and money to the cause. Many even offered to help volunteer their time.
Thanks to Project Embrace's growth, items are now being shipped to India and Swaziland as well. The nonprofit has now expanded far bigger than Sudabattula could ever imagined, but he is thrilled and grateful.
"When it comes down to it, I feel a duty to help people around me," he said. "Everyone deserves to be healthy and happy."
Read more about the story or read another inspirational story
JOIN THE MOVEMENT
Subscribe to our newsletter and receive inspirational stories delivered to your inbox that spread love, updates on our movement, and notifications on upcoming deals & events.
Advertisements