Man Creates a NonProfit That Fixes Plumbing for Seniors Who Need Help
In Burnley, England, a 52-year-old plumber named James Anderson is on a mission to fix every struggling senior citizen's plumbing—free of charge.
Anderson quit his job back in 2017 when he witnessed another home engineer treating an elderly customer poorly. Soon after the incident, he left his private work to start his nonprofit called Disabled and Elderly Plumbing and Heating Emergency Repair (DEPHER).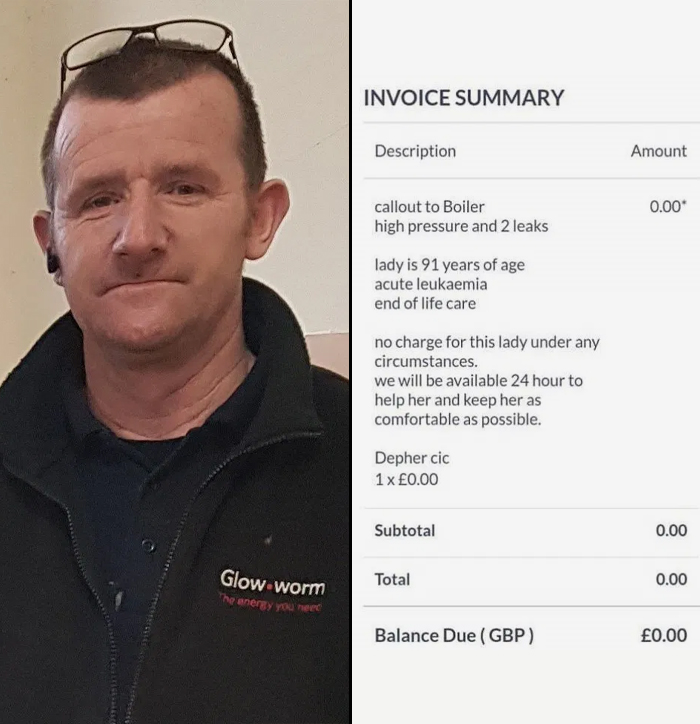 Over the past two years, Anderson has amassed a small team of workers to help repair boilers, fixtures, heating systems, and more for any struggling or low-income seniors. Currently, DEPHER has helped thousands of people for free.
The father-of-five finances much of these services through online crowdfunding, donations, and paid jobs from customers who want to support his mission. Despite all the help, however, Anderson accumulated a small personal debt.
"A lot of people close to me ask: why are you getting yourself in to debt? Why are you doing this?" Anderson commented. "To me, debt is debt… I would rather owe some money to somebody and another person be alive and happy and safe."
Thankfully, the generosity of strangers recently brought him out of his situation.
Anderson posted a photo of an invoice he had from a job he did with a 91-year-old woman suffering from acute leukemia. The invoice totaled to zero and the plumber wrote: "No charge for this lady under any circumstances. We will be available 24 hours to help her and keep her as comfortable as possible."
The post went viral. The influx of donations has tremendously aided in Anderson's financial situation and the future of DEPHER.
With the upcoming winter months (a prime time for repairing heating fixtures), Anderson is expecting to have a very busy, but fulfilling, end to 2019.
Read more about the story or read another inspirational story
JOIN THE MOVEMENT
Subscribe to our newsletter and receive inspirational stories delivered to your inbox that spread love, updates on our movement, and notifications on upcoming deals & events.
Advertisements