Heartwarming Tiktok Video of Boyfriend Shaving His Girlfriend's Hair Goes Viral
Since she was 13 years old, Eva Barilaro has dealt with alopecia, a common skin disease condition that causes hair to fall out. She believes the cause of her disease came from two traumatic events that occurred simultaneously when she was a child since she lost all her hair during that one month period.
Ever since then, Barilaro has had a continual cycle of growing and losing her hair. She would spend several months believing her hair would finally grow back, only to feel disappointment when patches would begin falling off once again. Countless trips to the doctor's office did not help, either.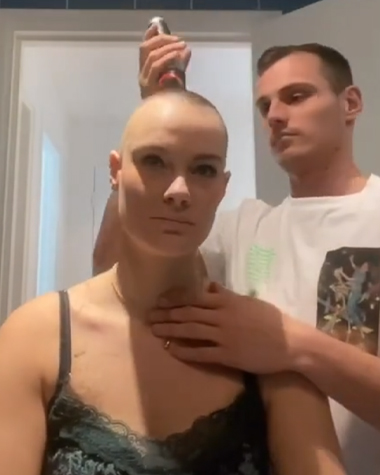 "I had so hoped of hair growth again," she explained in a comment from her video. "but [it] didn't last, I was always losing it once more.
"I went through many mental health issues because of all these (especially eating disorders), but never stopped. . . today I'm finally graduating from law school, and it feels good. But after an amazing hair growth since 4 years, after being very close from having all my head covered, I started losing it again and again…
Yesterday I asked my boyfriend to shave my head even though he loved seeing me with short hair."
In a now viral TikTok video, the clip shows Barilaro and her boyfriend standing together in their bathroom. The emotional moment of Barilaro's boyfriend shaving off her head ends in a surprising way – with him shaving his own head too.
The show of support caught Barilaro off guard and she is shown being visibly overwhelmed at his loving gesture.
You can watch the heartwarming moment below!
JOIN THE MOVEMENT
Subscribe to our newsletter and receive inspirational stories delivered to your inbox that spread love, updates on our movement, and notifications on upcoming deals & events.