Love Button Was Honored To Be Present At a Formerly Homeless Couple's Wedding Day
On June 2nd, 2018, Alyssa & Thomas Burlingame got married outside Ithaca, NY, the same place they fell in love and had been dating for many months. Their wedding was unlike any other, and their story is just as unique.
A ministry group had been working together to help people facing challenges with homelessness in the Ithaca area. Love Button ambassador Christopher Biehn started a grassroots campaign called Ithaca's Homeless Crisis to film a public service announcement video highlighting the preventable deaths of homeless people in Ithaca. Biehn and his group helped build temporary shelters for some, including Alie & TJ, and bought portable propane heaters and propane tanks for fuel so the folks living outside wouldn't die from extreme temperatures.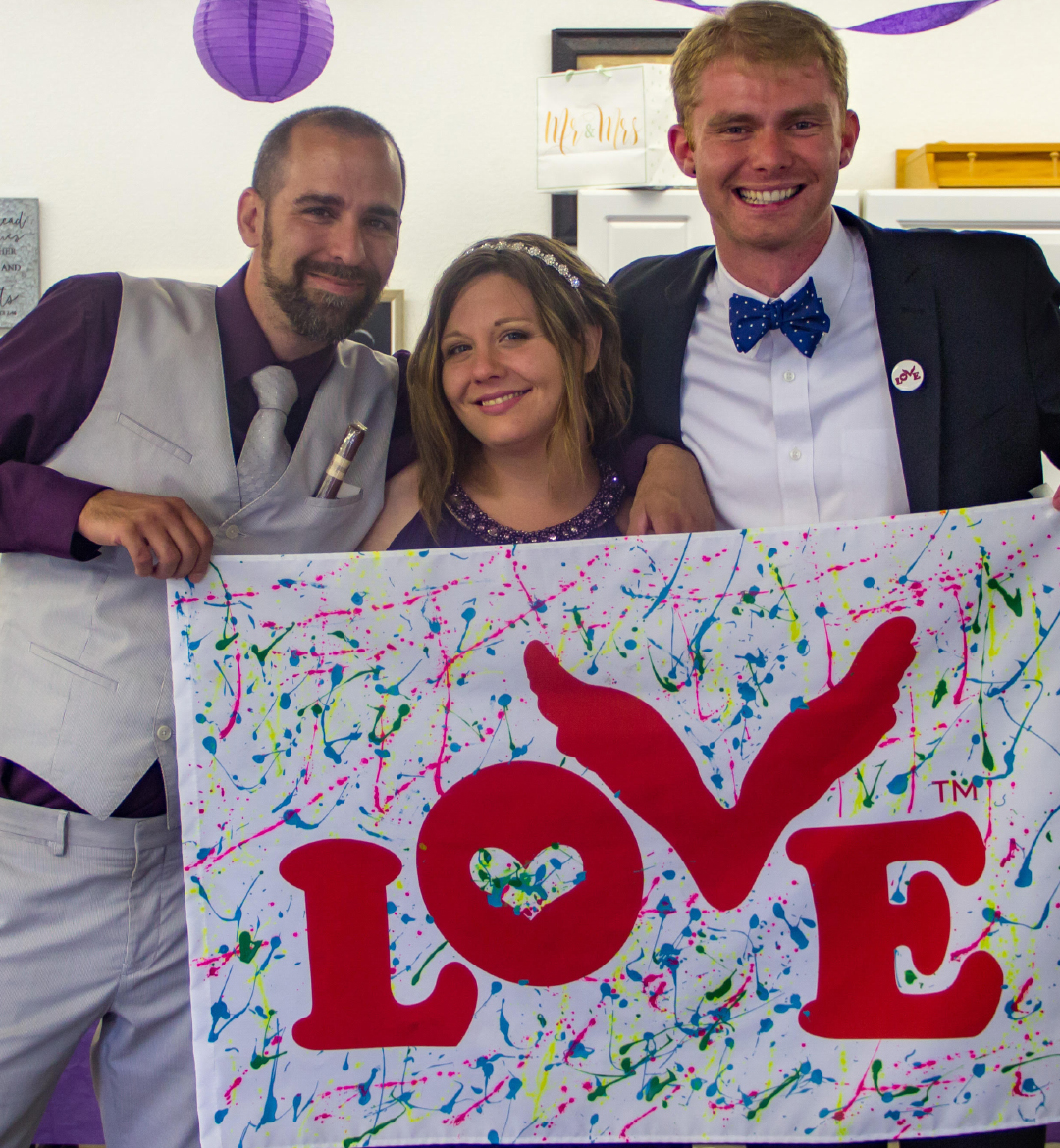 Biehn formed a relationship with Alie & TJ and became close friends with them. TJ became so close to Biehn that he asked him to help with popping the big proposal question. Once Alie and TJ got engaged, they asked Beihn to officiate the wedding, and he joyfully accepted.
Christopher organized a Go Fund Me page that raised just over $1,000, which covered almost every cost basic wedding expenses like a cake, decorations, and for the bride's dress. Carmen Guidi and his family donated their house to be used as the wedding venue.
Love buttons were given to the guests as wedding favors, and the love flag served as the backdrop of their newlyweds table for the reception.
Love Button had a big time feature for Alyssa and Thomas Burlingame's most special day of their life, and it was marvelous how the loving acts of kindness of the Marriott, the Guidi family donating their place as a venue, and all the generous donors for the crowdfunding page all did their part to make the wedding possible. Thankfully Alie & TJ now have their own apartment and are working on securing long-term jobs. TJ is currently employed and applying elsewhere.
Love is the most transformative force, and it's propelled them into a new stage of life looking on to bigger, better, more beautiful things.
JOIN THE MOVEMENT
Subscribe to our newsletter and receive inspirational stories delivered to your inbox that spread love, updates on our movement, and notifications on upcoming deals & events.
Advertisements